Merlot red wine
– the best option for beginners to discover the red wine. This second most popular wine is medium-bodied, lighter and softer than Cabernet Sauvignon
Bordeaux, France is the origin of Merlot red wine. Its name translates from Occitan (the old language of southern France) as "blackbird". Unlike Cabernet Sauvignon, Merlot quickly reaches maturity. Therefore it can be open young, making it one of the most approachable, drinkable and affordable of all red wines.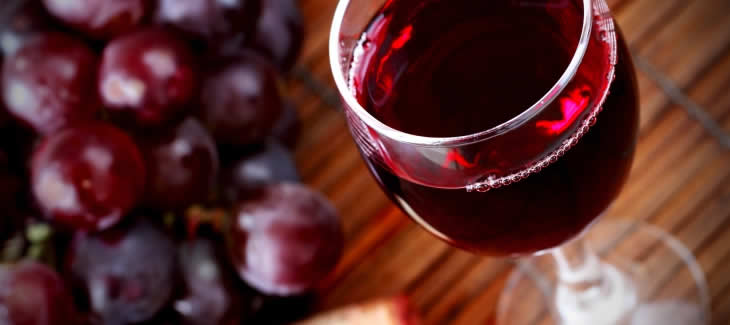 Smooth, rounded and "easy drinking" are common descriptions of Merlot wines. In new wine of Merlot dominated aromas of berries (blackberry, black cherry, raspberry), violet and wild plums or plum jam. Some find it in the notes of cocoa and coffee. With age appear aromas of figs, chocolate, spices shades (black pepper), later – the truffle (fungus). There is difference in the flavor of Merlot from regions with different climates. In hot countries bouquet will be more powerful flavored – more spicy and alcohol. Flavor and color in cool climate will be more "green" and alcohol will be less.
The flavors and aromas of Merlot include red fruits, easy tannins and a soft finish. Often in Bordeaux wines where it is often blended with Cabernet Sauvignon. As one of the five Bordeaux varieties, it contributes fleshy, ripe dark fruit flavors with soft tannins and an overall supple texture to a wine blend.
Merlot red wine food pairing
Because of its position in the middle of the red wine spectrum it goes well with almost any dish. With medium tannin and not too much acidity pairs well with meat – from cold ham and ending grilled ribs, vegetable stew, beans, acute and semi-hard cheeses, any poultry.
Shop Now and get Free Bottle of Wine With Purchase of Gold Wine Club 3 month + gift – The Gift that Keeps on Giving! Click here!