Châteauneuf-du-Pape, thirteen varieties and three outlaws
For those who have not yet heard of it, Châteauneuf-du-Pape is a famous AOC, shrouded in mystery, myth, and legend. For me, the already initiated amateur, the interest was simple; how and where I could taste this wine without "amputating my wallet", please excuse the Portuguese expression…
And my curiosity is explained by the fact that this wine is made from 13 varieties and the vines grow among rocks, interesting isn't it?
Grenache, Syrah, Mourvèdre, Cinsault, Clairette, Vaccarèse, Bourboulenc, Roussanne, Counoise, Muscardini, Picpoul, Picardan Siterret Noir.
Do you realize how much science, art and talent are needed to combine all these varieties?! I am not talking about a result which is just "drinkable", I am talking about an excellent wine… 13 varieties, though!
That's the legend and mystery that sell wine and, of course, allows all kinds of speculative maneuvers and inflated prices.
Nota bene: in fact 13 varieties are authorized, but you can do it with 3, it is still Châteauneuf-du-Pape.
So I was thinking and "my curious self" could not wait to taste the charming liquor. At a wine fair in Caen, the improbable happens to me, when who do you think were installed on a double stand in front of me?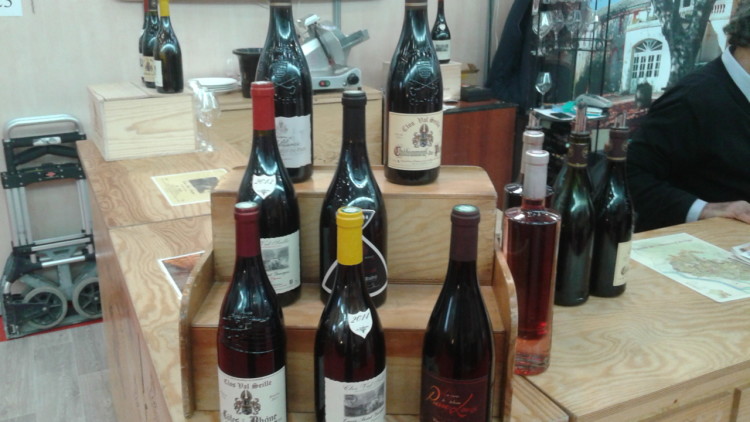 Châteauneuf-du-Pape, Clos Val Seille.
I looked at them, they looked at me (not understanding the word "Moldova"). They were three outlaws and in their eyes I could read one question: What the actual f..k?
Whereas my thought was more simple and friendly: bingo!
The first day of the fair we looked at each other, exchanged a formal greeting… and we minded our own business… On the second day, I found a good time when there were no customers and I started talking with them. They were neither winemakers nor the owners, but experienced traders. So I managed to taste a few opened bottles, listening to each one about the "brigandage" of youth, experience in oenology, women, politics, and of course, football.
During the tasting: hm…There were 7 different bottles of red wine, one white wine, I tasted four of the reds, the most expensive of them and I had the impression that all had the same wine in them … And it wasn't even good. It was a drink without the Pope, and without God!
I was simply lost, I did not expect such a thing, that is why to the question:
– How is it? … To remain genteel, I replied:
– It's pretty weird, is not a wine for my taste, I am not used to it … I just could not say: Guys, your wine is bullshit!
I was so disappointed that I ran to a friend, a winemaker from Languedoc Roussillon, on the other stand and I sent him to taste (I may be sick, I cannot taste today, who knows?!)… I see him coming back: same verdict!
Luckily the customers started coming and I minded my own business, I just forgot the unpleasant experience.
In the evening, before closing, I noticed that the outlaws mingled all remnants of the bottles, making several full bottles again for the next day…Magic! I realized that I actually tasted a mixture made by three thieves!
Well… It happens, probably the Good Wine is waiting for me somewhere else…
-Châteauneuf-Du-Pape, where are you?
Radu Nichita Macovei, Caen, March 2015