Chardonnay white wine
is produced from a noble variety if grape, which surely can be called a classic for white dry wines.
Bourgogne (Burgundy) from France is birthplace of Chardonnay grape. There is even a village Chardonnay. Now it is grown throughout the world and quite many countries producing very fine chardonnay as well conventional ones. Quality depend of the locality, clone and care. Chardonnay white wine production increased seriously in the past 25 years. Now this is the most popular wine.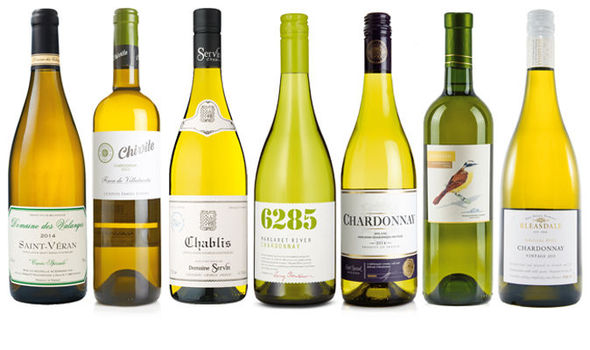 Climate and soil play a major role fruit flavors a Chardonnay will have. Warm regions produce wines with high alcohol and full body, with cream, butterscotch, oak, peach and tropical fruit flavors. Cooler areas deliver a more restrained wine. The most famous Chardonnay vineyards grow in warm climate, on soils containing lime.
Chardonnay from Burgundy has a slightly mineral flavor. In the bouquet you can distinguish notes of green apples, duchesse, lemon, fresh hay.
California chardonnay more full-bodied, it felt vanilla, spices, oak tones.
Australian chardonnay has different walnut tones with hints of oriental sweets, gooseberry aroma.
The very coolest Chardonnay, for example, those in Chablis, Champagne and Germany, lean towards green-apple aromas.
Other countries, such Italy, Moldova, Georgia, South Africa, Chile, Slovenia, Argentina, New Zealand, Germany, Austria also produce Chardonnay white wines.
How to drink Chardonnay white wine
As a rule, drink chardonnay chilled to 8-12 degrees. Here operates a universal rule – the rougher taste, the cooler must be supplied drink.
Due to the fact that Chardonnay wines have not universal characteristic flavor, it is difficult to pick up a pair of universal gastronomy.
But in general, easy wine goes well with river fish and seafood. As well more full-bodied chardonnay you can snack with white meat, lean beef. Fruit varieties are served with dessert, aged chardonnay complements salads. Consequently, a dry wine pairing well with creamy cheeses, white bread, fruit, olives, pistachios, nuts and sweets.