German riesling wine
is one of the top white variety and the most well-known and popular german wine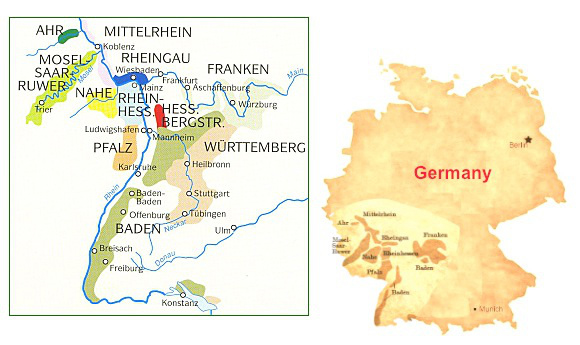 Riesling is a white grape variety, originated from the Rhine region of Germany. It is the world's seventh most-planted white variety and among the fastest growing lasy years. German riesling wine is favorite for many sommeliers, chefs, and other food and wine professionals for its appealing aromatics, finesse, and minerality, ability to reflect terroir, for its impressive versatility.
The best Riesling wines are pure fruit, vinified as simply as possible to reveal the true character of the vineyard. Typical fruit flavors in a cool-climate Riesling can range from citrus and green apple to peach, apricot, mango and guava. Some Rieslings have a little bit of everything, drenching your palate with layers and layers of fruity delight. But one thing stays true: Riesling is always recognizable as Riesling.
German riesling wine is acknowledged by chefs and wine connoisseurs to be one of the best wines for pairing with food. Reasons – the level of acidity and ripeness and the vibrant fruit flavors inherent in Riesling wine make it perfect for pairing with the widest range of foods. The acidity and sweetness mirror the technique of the use of vinegar, citrus and sugar used in foods to balance their flavors.
Shop Now and Save on the Garagiste Wine Series! Only at GoldMedalWineClub.com