White wine pinot or Pinot Grigio (aka Pinot Gris)
Pinot Gris / Grigio – sort of formal white grapes with pink skin, one of the most famous representatives of the Pinot family. Originally from Burgundy. But the best white wine pinot is produced in Italy. Now it is widely extended in various wine regions of the world and is the second most popular white wine in America, after Chardonnay
It is a mutation of another well-known varieties – pinot noir, from which it differs only with a superficially light color skin of berries. Two varieties are indistinguishable from each other until the beginning of ripening, when the pinot gris gets its distinctive palette of colors, from orange-pink to a dull purple.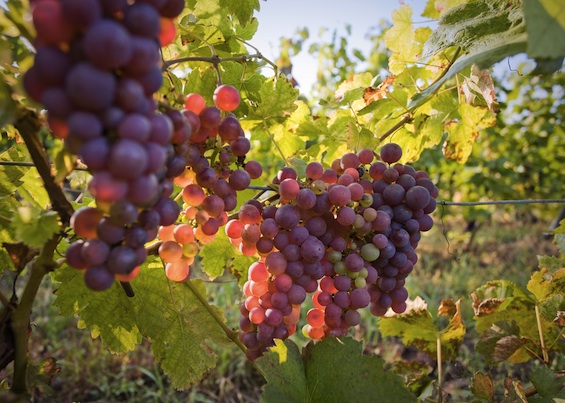 White wine pinot is famous for its refreshing citrus flavor and zesty acidity. Pinot Gris from the Alsace region of France is typically rich and often sweet, with rich, spicy tropical fruit aromas. Flavour of baked apple and quince is balanced by a delicate palate. Pinot Grigio in northeastern Italy shows a lighter, crisp, clean and vibrant expression of the grape, with citrus flavors. Itis made in a more complex style with the occasional use of oak and lees for texture.
Berries have low natural acidity and high sugar content, so the best examples of this wine is produced in the coldest areas of the wineries. In the warm climate the edges of the Pinot white wine is often lacking in acidity and structure, and therefore the alcohol content is often greater than optimum.
Pinot Gris Food Pairing
Wine with its zesty and refeshing acidity pairs really well with fresh vegetables, raw fish and lighter meals. Also Pinot Gris goes pretty well with fish and shellfish.
Shop Now and get Free Bottle of Wine With Purchase of Gold Wine Club 3 month + gift – The Gift that Keeps on Giving! Click here!